Developer Repositories
This page lists repositories used for Mercurial development.
Main repositories
For End-users
For Mercurial developers
Bugfixes are committed to the stable branch and pushed to the main repository. This branch is automatically pushed to hg-stable to provide a separate repository. New features go to the default branch, which gets merged into stable at the start of each code freeze.
Other core repositories
The flow between the main and committed repositories is shown in this graph. The blue repositories are controlled by senior reviewers, the dark green repositories by core contributors and the light green repository by MartinGeisler.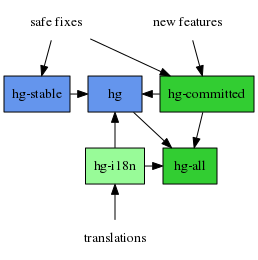 TortoiseHg
See the TortoiseHg Wiki page for that project's development repositories.
Inactive repositories
Repositories that have been decommissioned or had no recent activity:
---